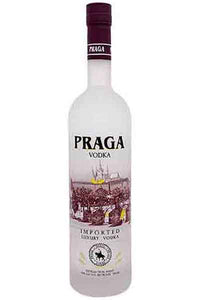 *Packaging May Vary
A new brand to the US market, Praga Vodka has transformed the vodka landscape and developed a new culture of appreciation for the spirit. We are a leader in the unique experience of exploring a cocktail inspired by Europe's modern face. As the world has changed so have its tastes; our vodka is crafted for the modern palate with a revitalizing balanced finish. Reminiscent of old world roots but possessing a brilliant new facade, Praga Vodka is as revolutionary as it is classic. When your passion is your job, only the best will do. This passion is the heart of Praga Vodka. We've taken what we love and made it available to everyone, because when you truly love your creation, you share it.
Starting with the finest ingredients Praga Vodka uses only the highest quality grains into a world-class distillation process. 7 times distilled through platinum and silver-impregnated carbon to achieve a smooth, refined flavor and pure drinkability. Unrivaled in adaptability, and endlessly mixable, it's perfect for all cocktails involving vodka. No matter the mix, no matter the skill, a hand-crafted cocktail isn't complete without the smooth touch of our hand crafted, new world vodka.
The old face of vodka is gone, welcome to Europe's modern vodka.