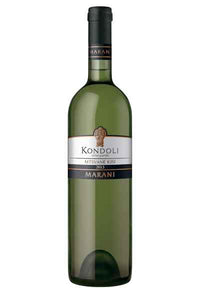 *Packaging May Vary
Vinification
Selected blocks of Mtsvane K.05 and Kisi K.05, of Kondoli vineyards have been green harvested during the first days of véraison (in August) in order to artificially reduce the grape yield down to 7 tons per hectare and thus, increase the overall quality and concentration of remaining fruit. At the end of September the grapes were hand-harvested in small boxes, hand-sorted in our winery and chilled down before pressing in pneumatic press. All the necessary measures have been taken to protect the juice from oxidation. After settling the juice, fermentation have been carried out by indigenous yeasts, presented on the grape skins at 13-14°C in order to preserve natural aromas. On completion of fermentation tanks were topped and hand stirring applied for 5 month of aging for flavor and aroma integration. Minimum filtering and bottling completed the process.

Tasting Notes
Color:
A light gold with greenish hue.
Aromas:
Two native varieties compose a natural marriage of fresh, leafy and flower blossom from Mtsvane and rich tropical fruits, pineapple and ripe plums aromas from Kisi.
Palate:
A nice clean attack, with floral and white peach flavors. Mid-palate is rich with creamy layers of mango, peach and pineapple lingers in an elegant and racy finish.