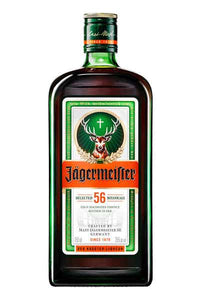 *Packaging May Vary
Wine Enthusiast 89 points - This nut-brown liqueur, known best as a college shooter, has a sophisticated side, too. Look for a root-like nose that hints at sarsaparilla and a spiced, warming palate that suggests cinnamon, gingerbread, molasses and clove..Kara Newman, April/2016
Ultimate Beverage Challenge 95 points - A singularly pungent nose of caraway, anise seed, and peppermint imply a bitter profile, but this liqueur contains just enough sweetness to leave the drinker invigorated but not overwhelmed and eager for more..April/2016
If you take a closer look at Jagermeister - the distinctive green bottle, the label and the herbal liqueur itself - it quickly becomes clear that everything revolves around forests and hunting. Its inventor, Curt Mast, had a passion for hunting and dedicated his liqueur to hunters. Deciding on a name wasn't exactly difficult, he chose the name 'Jagermeister' (German for 'master hunter') - a term, that was already well-known as a profession due to the century old tradition of hunting. For the label on the front of the Jagermeister bottle, Curt Mast selected a verse from a famous hunting poem by Oskar von Riesenthal (1830 to 1898): "This is the hunters' honour shield, which he protects and looks after his game, Huntsman hunts, As it should be, the Creator in the creatures honour." And the trademark symbol couldn't be just any old picture. No - it had to be the legendary Hubertus stag with the cross shining out from between his antlers. To find the perfect packaging for his new 'hunting companion', Curt Mast had to get creative, performing a breaktest that involved dropping a range of different bottles on his kitchen floor from a height. This allowed him to identify a high-quality and particularly robust model: the striking green Jagermeister bottle. But the herbal liqueur would not just have a strong external connection to hunting and nature; since its invention more than 80 years ago, Jagermeister has been produced using a secret recipe containing only natural ingredients. The key to its unmistakeable taste can be found in the combination of 56 different herbs, blossoms, roots and fruits from around the world.