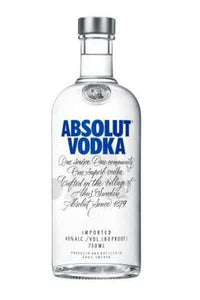 *Packaging May Vary
Ultimate Beverage Challenge 92 points - Clean, crisp, and inviting nose with delicate touches of snack cracker, black pepper, lemon zest, and lime flower. Full-bodied and luscious, warm brioche and vanilla embrace the tongue with lifted citrus and flowers on the finish. -2019 Ultimate Spirits Challenge (Excellent, Highly Recommended) (Great Value). April/2019
Absolut Vodka is a Swedish vodka made exclusively from natural ingredients, and unlike some other vodkas, it doesn't contain any added sugar. In fact Absolut is as clean as vodka can be. Still, it has a certain taste: Rich, full-bodied and complex, yet smooth and mellow with a distinct character of grain, followed by a hint of dried fruit.
Winter Wheat, Pristine Water; 40.00%
Add 1 part Absolut & 3 parts Tonic Water, build in highball glass over cubed ice.