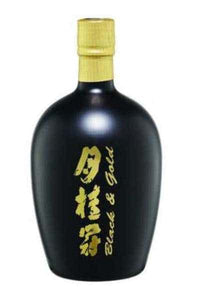 *Packaging May Vary
Ultimate Beverage Challenge 88 points - 2018 Ultimate Wine Challenge (Great Value) - This sake has a star-bright pale straw color. The nose is vivid and elegant, with notes of cucumber, hay and oatmeal. Steamed rice and freshly done laundry come through on the palate. Invigorating like a breath of fresh air..June/2018
Gekkeikan Black & Gold is a unique blend of two sakes, carefully selected from Sake made with rice milled to 60% and 70 % by our sake master for a rich, complex sake.
Alc./Volume: 15.6% Class: Junmai-shu Sake Meter Value: ±0 Sulfite and gluten free
Pairing Notes: This versatile food sake complements duck, grilled chicken and pork, scallops and steamed shellfish dishes. Serving Suggestions: To fully appreciate Black & Gold's complexity and nuances, enjoy slightly chilled or at room temperature.